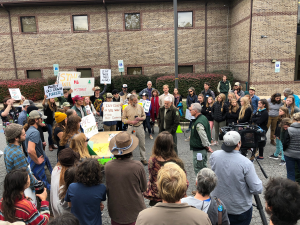 The Chattooga Conservancy attended an Objection Resolution meeting regarding the Southside Project with the US Forest Service and other objectors on Thursday, November 1, 2018. Approximately 20 named objectors and representatives were present at the meeting, as well as approximately 10-15 additional members of the public. During the course of the four-hour meeting, named objectors were invited to speak directly with the USFS, including Forest
Supervisor Allen Nicholas and District Ranger Michael Wilkins, about their objections to the project. Many compelling points were brought up and discussed regarding the project's potential impacts to old growth, wilderness inventory areas, Natural Heritage Natural Areas, green salamander habitat, water quality, and soil erosion, as well as the project's use of herbicides and prescribed burning.
Following the meeting, a protest rally organized by the Chattooga Conservancy began in the parking lot, so that members of the public who were not allowed to speak during the meeting could make their voices heard. Approximately 80 people attended the rally to stand up for these precious forest lands! Mr. Nicholas and Mr. Wilkins met with the protesters outside to listen to concerns and discuss the project. The conversation, though passionate and at times contentious, remained peaceful.
Local news station WLOS attended a portion of the meeting and rally, and aired the story that evening.
The Forest Service will now consider the objections before making a final decision. We do not have an estimate for when the decision will be made, but will update as soon as there is any news.
Thanks to everyone who has participated in this fight thus far! We greatly appreciate all who have attended informational meetings, followed the objection process, shared the issue with friends and family, and shown up!!