Comment deadline: Friday, August 13
The Forest Service's
Foothills Landscape Project (FLP)
is a massive proposed project that is scheduled to be—by far—
the largest Forest Service action in northeast Georgia in recent history
. It encompasses over 157,000 acres of our public land, including hundreds of acres in the Chattooga River watershed, and calls for logging, herbicides and prescribed fire, as well as altering trails and roads. Approximately 2/3 of the entire project area could see active management likely involving the use of large-scale, mechanical equipment.
Latest Update- August 2021
The Forest Service just recently issued their new and lengthy 500+ page revised environmental assessment (EA), plus a suite of associated documents for the project. The agency gave citizens minimal time to review all of this paperwork, and to submit comments by this Friday, August 13th!
Unfortunately, the Forest Service's revised programmatic EA still fails to provide the essential details about exactly where, when, and what kind of actions will be implemented within the huge project area, and instead has deferred these specific disclosures, as well as site-specific reviews of their full environmental impacts, until later on during the project implementation phase.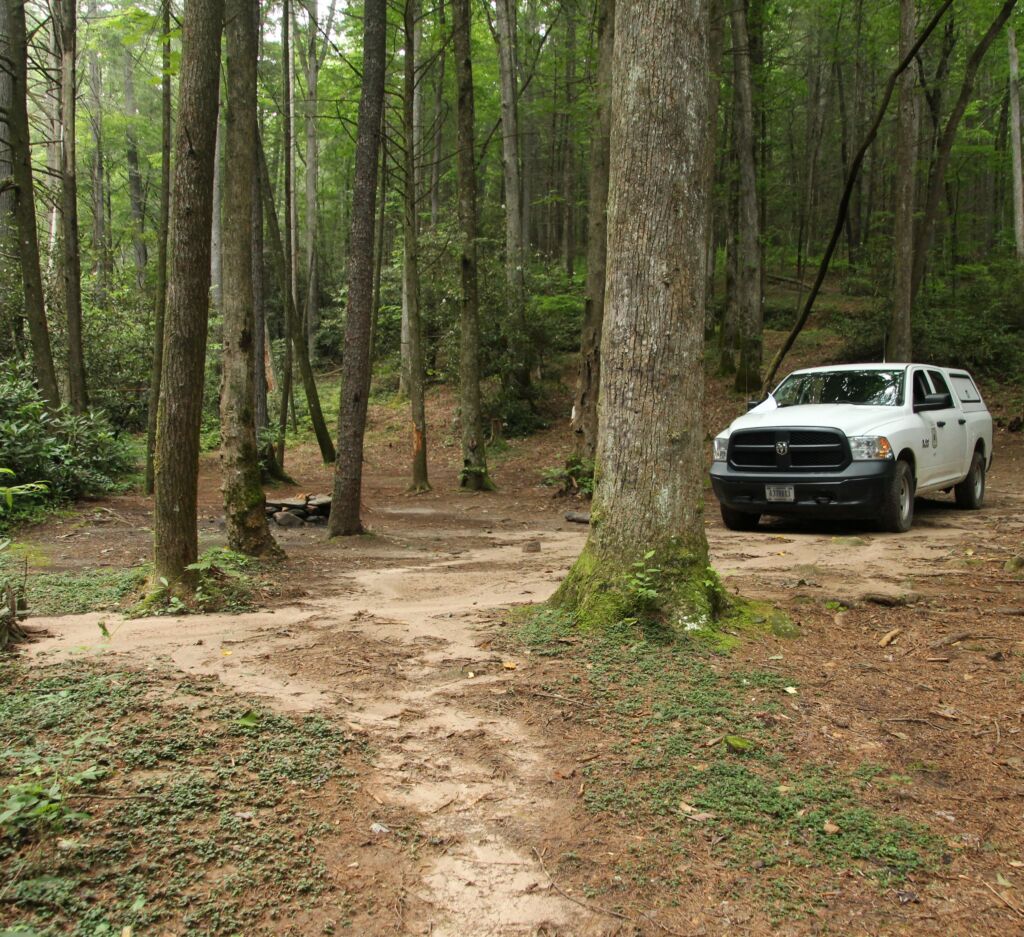 The Foothills Initiative is also slated to address roads, trails, and recreation areas such as this heavily used camping area on Earl's Ford Rd. in Rabun County, GA.
How to submit comments:
Online: Comment on FLP
In writing: Edward Hunter, Jr., Forest Supervisor, ATTN: Stephanie Israel, 1755 Cleveland Highway, Gainesville, GA 30501
By fax: 770-297-3011
Comments must be signed and should include "Foothills Landscape Project" in the subject line or on the envelope, if mailed.
talking points
Narrow and limit the scope of the project to focus on issues with broad support. Exclude known contentious issues that will surely generate disagreements.  Establish firm, agreed-upon sideboards for project actions.
Use selective tree harvesting techniques to restore a diverse native broad leaf forest, which has multiple layers of dominant and co-dominant trees, shrubs, herbaceous understories and ground covers.
Don't use tree-cutting practices that call for repeated herbicides (that many scientists believe have carcinogenic properties) and burning treatments to cultivate even-age stands of crop trees of pines and oaks—at the expense of restoring native biological diversity.
Preserve all existing old growth stands in the project area, including at least 630 acres of existing old growth trees in the Chattooga watershed portion of project area.  Further, cultivate and restore potential old growth stands, connected in a mosaic of intact native forest across the landscape.
Don't use a prescribed burning regime that far exceeds natural fire cycles in the Chattooga River watershed, which is a temperate rain forest.  Natural fire cycles in the Chattooga watershed are 15 to 20 years, or more.
The FLP must adequately address restoring a true native forest connected across the landscape to mitigate the effects of climate change, and to help provide migratory corridors for plants and animals to adapt to changing habitats.
The Forest Service should not log, burn and construct roads in potential wilderness areas, Mountain Treasures areas, inventoried roadless areas, or in areas deemed "unsuitable for timber production."
Background
The Forest Service launched its "Foothills Landscape Initiative" in the fall of 2016. The project area encompasses a vast 157,625 acres of national forest land in north Georgia, including a significant portion of the Chattooga River watershed in Rabun County. The Forest Service is seeking public input to consider as they develop specific aspects of the project.
We have been engaged in the Foothills Project's "collaborative" process to push for the restoration of native forest types, old-growth forests and native canebrake ecosystems, and to also push for the protection of water quality, wilderness areas and roadless landscapes within the project area.
After a series of public meetings and workshops during 2017, the Forest Service issued its "proposed action" for the Foothills Project. The agency also developed an online forum to solicit public participation.
We submitted 3 sets of comments on the Foothills Landscape Initiative in the early stages of planning:
On December 2, 2019, the Forest Service released the Foothills Landscape Project Draft Environmental Assessment (EA).  After denying a request for a delayed start date of the commenting period, they published their official legal notice in Gainesville Times for the 30-day comment period ending January 10, 2020.
Over 2,000 comments were submitted by the Jan. 10th deadline! The Chattooga Conservancy submitted comments in partnership with the Southern Environmental Law Center, Defenders of Wildlife, Georgia ForestWatch, Sierra Club, and the Wilderness Society, as a document totaling more than 200 pages. We also prepared a separate brief set of comments. Both documents can be read here:
This is a large project. Stay tuned for further updates, and thank you to all who have gotten involved!