UPDATE 9/5/2019:
The Cashiers Lake dredging & development proposal is back, and a public hearing with the NC Department of Environmental Quality Division of Water Resources (DWR) has been set for next Friday, Sept. 5th (details below).
The proposal, submitted by Cashiers Canoe Club, has been changed somewhat since last year, but still includes:
– Dredging (destroying) ~ 6.2 acres of wetlands around the lake & filling ~1 acre of wetlands;
– "Disturbing" (dredging?) ~3.5 acres of Cashiers Lake, filling ~1.5 acres of the lake;
– Development of 60+ homes; and
– Doubling the sewage load on the Cashiers Wastewater Treatment Plant (WWTP) that discharges into the Chattooga's headwaters, such that the WWTP will operate at 100% capacity. 
The Sept. 5th meeting will be held at Albert Carlton-Cashiers Community Library at 249 Frank Allen Road. While meeting begins at 6:00 PM,  if you want to speak, registration begins at 5:30 PM.
Event announcement: https://deq.nc.gov/…/notice-public-hearing-cashiers-canoe-c….
Following the meeting, the public may submit comments to DWR until October 7th (more on that soon).
Please attend the meeting to make your voice heard about this issue! Please contact us with any questions.
UPDATE 1/10/2019:
A decision has not yet been made regarding the Cashiers Lake Dredging and Development proposal. We are pushing for a public meeting to allow members of the community to learn about the project proposal and have the opportunity to discuss concerns. We are continuing to monitor this project and will update as soon as we receive any new information.
———————————————————————————————
UPDATE 6/11/2018:
The deadline to submit comments regarding the Cashiers Lake Dredging and Development proposal passed on Friday, June 8th. Comments submitted on behalf of the Chattooga Conservancy and Mountain True can be viewed here: CC- Cashiers Lake Comments
Thanks to all who took time to comment and help spread the word!
———————————————————————————————
Chattooga Conservancy ACTION ALERT
Please take some time to submit comments regarding the Cashiers Lake Dredging and Development proposal.
A Texas developer has applied for a permit from the U.S. Army Corps of Engineers to dredge Cashiers Lake, which feeds the headwaters of the Chattooga River, as part of a plan to build a 100-unit resort hotel and a 55-home residential community there. The proposal includes dredging of 17.37 acres of lake bottom and 6.54 acres of wetland. Ground disturbing activity for the development will also impact numerous unnamed feeder streams and aquatic life. The project plan does not provide adequate information regarding storm water protection safeguards in case of excessive rainfall common to the headwaters. The proposed sewer line for this high density development would go to the Cashiers wastewater treatment plant on the Chattooga River that is already capped and maxed at 200,000 gallons a day to protect the river, which is classified as Outstanding Resource Waters.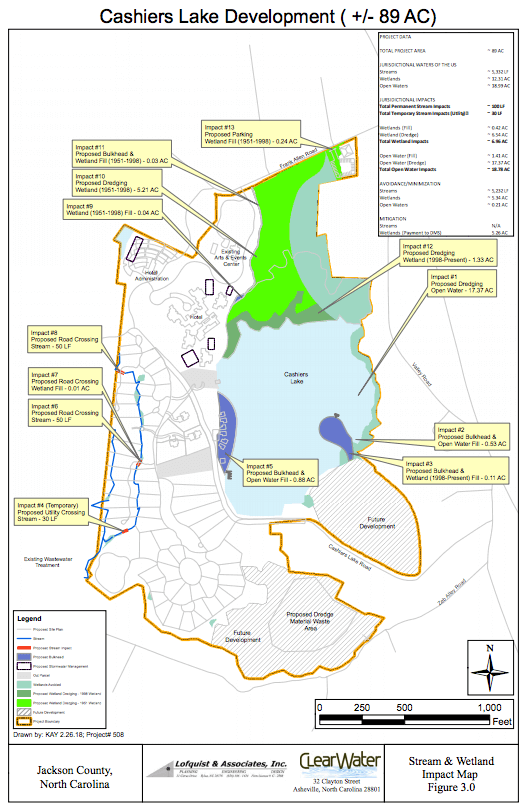 Please email David Brown at david.w.brown@usace.army.mil and request a "public hearing." Request must include a brief statement of reasons based on the information above. Citizens have the right to learn more about this potential threat to the longest and most pristine National Wild and Scenic River in the Southeastern U.S. 
For more details, please see the Public Notice and Project Plans
The DEADLINE for submitting comments is by 5PM EST Friday, June 8th, 2018
Send comments by email to: David.W.Brown@usace.army.mil
PLEASE SEND YOUR COMMENTS IN OPPOSITION TO THE PROPOSED CASHIERS LAKE DREDGING AND DEVELOPMENT PROJECT AND REQUEST A PUBLIC HEARING!